When To Go to Pilanesberg
Seasons
July to October (Late winter to early summer)
T
he best time to visit the Pilanesberg is from the middle of July to the middle of October (during late winter, spring or early summer). The reason for this is that animals take time to feed longer in the winter months, as there is less nutrition. The mating season which occurs from late February onwards is something worth seeing, as well. From January, however, viewing the dense bush proves to be an arduous task. In winter, the days are clear and warm. The evenings tend to be very cold in comparison. In the winter time, some areas of the park have to be burned. This is known as a controlled fire, and it is necessary as part of veld management.
The winter months are, however, a great time to see some lions. They don't take as much notice of tourists and cars as they would in another season. Even though they don't take as much notice, stay in your car at all times. The animals are used to vehicles, but if you leave the car you pose as a threat to them. Don't hoot at the animals either, as they will get startled and run off. This will ruin your chances of getting a photo. This will scare them and give them cause to attack.
October to March (summer)
Rainfall is mostly common in the summer months, between October and March. During this time, the Pilanesberg sees about 622mm of rain. You can expect the summer temperatures to be between 26°C and 30°C.
General Travel Advice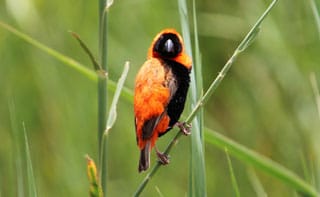 You probably won't be able to see all the animals at once. Read books beforehand, or take some with you on your trip. Educate yourself about the various species, big and small. The Big 5 may be the most popular, but birds, reptiles and even dung beetles are worth seeing. The books should also provide you with some information on animal behaviour during the various seasons. Binoculars are a must, as they will allow you to get as close as possible to your favourite animal. The best way to go about this trip is to enjoy every minute of it, no matter what time of the year you go.
Average monthly temperature and rainfall
| Month | Temperature | Rainfall |
| --- | --- | --- |
| January | 25.6 C | 11.4 cm |
| February | 25 C | 10.9 cm |
| March | 23.9 C | 8.9 cm |
| April | 22.2 C | 3.8 cm |
| May | 18.9 C | 2.5 cm |
| June | 16.7 C | 0.8 cm |
| July | 17.2 C | 0.8 cm |
| August | 20 C | 0.8 cm |
| September | 22.8 C | 2.3 cm |
| October | 25 C | 5.6 cm |
| November | 25 C | 10.7 cm |
| December | 25.6 C | 12.4 cm |