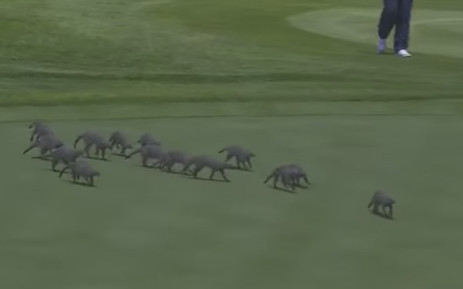 The recent Nedbank Golf Challenge at Sun City was momentarily interrupted by a large business of mongooses (yes, "business" is the collective noun) believed to be from our very own Pilanesberg National Park, which is just adjacent to Sun City. The interruption occured during the first round of the tournament just as players were about to putt.
Players and spectators watched on in gleeful surprise as the mongooses scampered across the green, seemingly unperturbed by the crowds around them.
There was some concern that the mongooses would move Victor Dubuisson's in-play ball, but although one mongoose had a good look at it, they all moved on without interfering with the ball's position. Perhaps they'd seen enough golf over the years to pick up at least some of the rules.
This isn't the first time play at Sun City has been invaded by animals, according to Sky Sports, in 2014 Luke Donald had to contend with a rampaging baboon.
But the mongooses obviously had more important business to attend to and didn't hang around for long. Play soon resumed. Watch the hilarious video below: