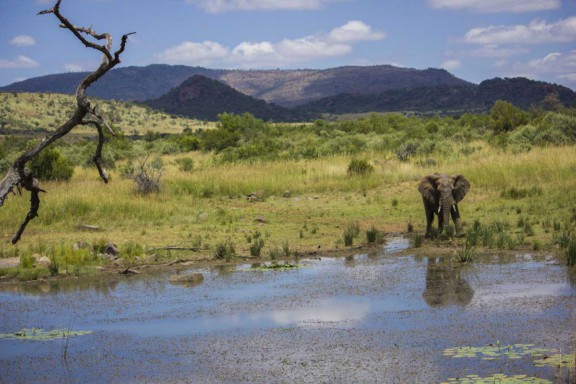 For those with limited time on their hands, there's a new day trip option available on our safaris page. With this in mind, we thought we'd give you a little rundown of what you can expect, and how to make the absolute most out of Pilanesberg in a day.
One of the joys of Pilanesberg is that it's just a two-hour drive from Johannesburg, so with a 6.30am pick up from the city in our comfortable air-conditioned transfer vehicles, we'll have you in the park by 9am, and out on your first 2 – 3 hour game drive in an open safari vehicle by 9.30am.
You'll have a light lunch in the middle of the day and then it's straight out again for the afternoon game drive from 1pm until around 3.30pm. You'll be back in Jozi by 6pm, whether you'll be staying in town for a while or swiftly moving on to explore other parts of South Africa.
Pilanesberg is teeming with wildlife including all of the 'Big 5' and much more. Your experienced guides know the park like the back of their hands, and will incorporate a number of its best panoramic viewpoints as well as the wildlife hotspots.
All our guides have a good knowledge of photography and how to position the vehicle to get the best shots, so be sure to bring your camera if you have one.
Liquid refreshments will be provided for lunch, but we suggest you bring your own water too, as temperatures can get very hot in the summer months, which last from approximately October to April.
If you want the best chances of spotting all of the 'Big 5' in a single day, the drier winter months (roughly between June and October) are usually your best bet – animals have to move around more in search of water, and the vegetation is less dense.
But the park is at its most verdant and beautiful in the wetter winter months, when the birdlife is also fantastic.
So best of all, do a day trip during both seasons to get a fuller picture of this magical park. We look forward to hosting you.