Pilanesberg Wildlife Trust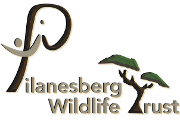 Who are Pilanesberg Wildlife Trust?

Pilanesberg Wildlife Trust was established in 1999 by the Northwest Parks and Tourism Board.  Over the past 15 years this organization has successfully provided a channel for Northwest Parks to raise funds and support for conservation efforts and community upliftment in and around the Pilanesberg National Park.
The Pilanesberg Wildlife Trust's key objectives include:
Eco-tourism and conservation within the Park
Conservation of the bio-diversity of the Pilanesberg.
Promoting socio-economic upliftment in the fields of nature conservation & tourism within the local communities residing near to the Park.
Internal and external corporate communications.
Fundraising to meet the above objectives.
Projects
The Pilanesberg Wildlife Trust has focused on developing projects that generate funds for the Trust in an effort to make the organization more sustainable.  There are a number of on-going projects that support the Trust's key objectives.  These projects include:
Project Phiri – this Project is based in the Northwest Province and was started with pilot research in the Pilanesberg National Park, in 2003. The Project aims to promote the conservation of Hyaenas through research and education.
Community Development – As one of its key objectives, the Trust assists with the funding of projects that are identified by the Community Development Officer if the Northwest Parks and Tourism Board.  These projects are focused on the empowerment of people and individuals by providing them with the skills and tools to effect change in their own communities.
Elephant Population – The aim of this project is to avoid the lethal removal of elephants through culling, from the Park. The Park is looking to stablilise the elephant population with the use of contraception.
Rhino Protection – Due to the rise in poaching, this project has become the Trust's priority.  This project is multi-faceted and includes the training and use of "Rhino Dogs" & handlers in the Park, and the identification and DNA collection of the rhino is the Park.
Wild Dog Monitoring – Following their reintroduction into the Park in 1998, the pack of Wild Dogs are monitored using satellite collars.
How to help
The Pilanesberg Wildlife Trust needs your support in raising funding for their on-going projects.
For further information on how to donate please contact Perry Dell:
Phone: +27 14 555 1622
Website:  www.pilanesbergwildlifetrust.co.za
Email: manager@pwt.org.za